I just saw a little
YouTube video about Barrow, Alaska
. It's the most northern town in the United States. Population 4,500. The Siberian town of Tiksi is the only place in the world larger and further north than Barrow.
In summer the sun never sets for 65 days, and in winter it never rises for 65 days. (
Winter is coming
probably carries more weight for
Game of Thrones
viewers in Barrow.). There are no paved roads. There are no roads leading out of town. The only way in or out is by airplane, or by barge if there is no ice in summer. Because virtually everything comes in by air, heavy items are astronomically expensive. A frozen pizza is $17.
But of course, all of this is mitigated by the architectural splendor of the town: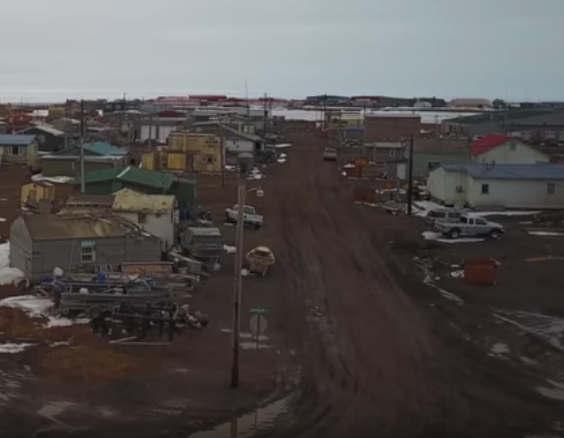 To put it charitably, it's probably a blessing that it's dark for 65 days a year. I would not want to be in charge of Tourism for Barrow. The good news: If you don't like hot weather, the warmest day in the history of Barrow was 79°.
What would it be like to live there? What happens to your circadian rhythm in a place where the sun has a bipolar disorder? Tinfoiled windows in the summer and sunlamps in the winter? As you would imagine, a lot of people self-medicate. Barrow is the Iñupiat cultural center of Northern Alaska. Alcoholism was so rampant that Barrow went 'damp' (Alcohol could be consumed but not sold) back in early 90's. The libertarian whites in town for the Prudhoe Bay money helped tip the election against public health officials and concerned Iñupiats. Alcohol was narrowly re-legalized, and continues to ravage the community. An interview with the mayor exhibits little small town chamber of commerce optimism. Barrow is both sustained and ravaged by oil.
But if Barrow isn't thriving, it isn't going anywhere. The population slowly rises.
Human beings are extraordinary creatures. From the Arctic Circle to the Equator, we adapt to conditions that other species cannot. I'm beginning to wonder if that very adaptability is not a clue as to why we are so difficult to govern. We are an unruly bunch. People are born in Barrow, but some people move there. You don't just wash up in Barrow, there are no roads into town. You have to decide to go there, which means that wherever you were, you wanted to get as far away as possible. Barrow is where you go when you run out of running room. Some people are drawn to the frontier, wherever it may be.
Maybe Barrow is the perfect coda for the American experience: Europeans looking to strike it rich duking it with Native Americans on the edge of the world. There's no moral of the story here. Just looking at the multitude of ways that people experience the world.

_________________


"The great problem of any civilization is how to rejuvenate itself without rebarbarization."


- Will Durant


"We've kept more promises than we've even made"


- Donald Trump


"Of what meaning is the world without mind? The question cannot exist."


- Edwin Land