Res Ipsa wrote:
Amore spreads false and misleading propaganda that gets gay folks around the world beaten, arrested, tortured, and killed and that's just fine with her. But when a porn star suffering from depression and multiple identity disorder kills herself a couple days after getting into an internet dispute with other porn stars over shooting porn with men that have done gay porn, and all of a sudden she's up in arms about gay bullies.

Tell you what, Amore. Quote and link every tweet that you contend was gay bulling of this young woman, and I'll post everyone one of your hateful posts against gay folks. Let's see who is bullying who:
She is pretty much one of the grossest human beings I have encountered. She can't even keep track of all the debunked reasons she has tried to rationalize her hatred of "THE GAYZ!!!!" with at this point. She just continues to fling handfuls of self-hatred, anal-sex fetish, falsehood filled excrement at the wall and hopes that something will stick. She seems to be completely missing the wall but still ends up with @hit all over her hands...I can only assume she kind of likes it.
I am loving the recent Maud Flanders tactics though: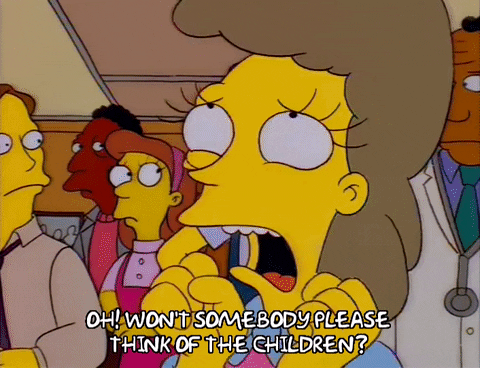 Fek, the only children Im concerned about here are any poor kids that may be unlucky enough to end up as amore's crotch fruit. Hopefully she is barren and wont have the opportunity to try to turn other people into hateful, cowardly, sexually frustrated bigots like herself.