Shulem wrote:
I wonder what Joseph Fielding Smith would have to say about my discovery of the chopped off jackal snout on the lead printing plate? We have yet to see what LDS apologists have to say about this. As far as I know, nothing has been said. But that's par for the course when it comes to the Book of Abraham, just put it on the back burner and keep the faith.
Now it's put it in a black box. Lol. Black, because it is a source of evil doubts probably and it surely is a cursed box. Something the box no doubt did in the pre-existence merited its present color and duty in life. When aircraft crash we look for the black box to learn why. This is an apt metaphor! When the world of Mormonism comes crashing down about the TBM he can look in the black box to see why this accident occurred. It became so loaded with facts that it became impossible to heft. The aircraft could no longer bear its weight and plummeted to the earth!
That jackal snout exists because there must be opposition in ALL things whether great or small. God had it placed there to test you boy and you fell for it! Lol.
I was contacted by a girl I knew as a teenager. She wants me back in the church. I explained that I left over conflicts with science. She assured me that she believes in science and was getting a degree in anthropology then she went on to state her hypothesis that TBMs have a particular blood type. That's right one of the blood types is superior to the rest! (Some blood cells were more obedient in their pre-existence no doubt). All this ties back into that great revelation that came from Joseph Fielding Smith about this fluid that courses through our veins.
I'm 907 years old but I don't feel a day over 800. What's my secret? I continue to sin and God keeps lengthening my probation so that I might repent. Well seriously, that's not true (twoo for TBMs). Rather than obtaining the 2nd anointing (too much work) and being rewarded with as long a life as I'd like, I did meditate upon the teachings of Joseph Fielding Smith - that the immortality of the body is due to spirit flowing through the veins instead of blood. Why of course! It's so obvious! Cut off that pesky Oxygen to the brain and it will live forever! Duh!
Anyhow I share my secret with you all. The spirit transfusion: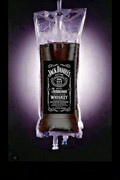 Live long and prosper.